We aim to guide the intellectual, moral, social, cultural and physical development of each individual boy. All aspects of this development are interdependent.
There are 19 classes within the School: one Preschool class, two classes for Years K-2 and three classes for Years 3-6. The current curriculum is divided into the six Key Learning Areas of English; Mathematics; History and Geography; Science and Technology; Physical Development, Health and Physical Education; and Creative and Practical Arts.
Reading fluently for understanding and developing a love of literature are important objectives. The boys enjoy quality children's literature and are encouraged to read daily, with a comprehensive home reading programme in operation across the School.
Specialist teachers work in Music, Visual Arts, Science, Drama, German, Library and PDHPE.
Building Strong Foundations – the Early Years
Young boys are naturally curious and passionate about learning. A boy's childhood is all about learning more about himself and his world.
Play-based learning allows boys to develop the foundational skills in a supportive and caring environment. Parents and teachers are partners in the learning journey from the moment they commence at Sydney Grammar School.
Growing hearts and minds begins in our purpose-built Preschool. Our flexible, interest driven programmes engage the boys' thinking and wondering about their world. 'Aha' moments abound as boys' ideas are sparked, developed and built on. Early reading, writing and numeracy skills are developed through our specialised and differentiated curriculum. As boys progress through our School, they become competent readers, writers, thinkers and problem solvers as well as empathetic happy friends with their peers.
Fostering Creativity and Critical Thinking through Inquiry
Developing boys' curiosity requires competent teachers who can pose questions, encourage ideas, support investigations and nurture growing minds.
Imagination and creativity are vital in any young person's childhood and at Grammar we celebrate these through our approach to Inquiry.
We explicitly teach the boys how to ask deep and complex questions and through our model of Inquiry we aim to develop in them the necessary tools for seeking out answers. Structured, guided and independent inquiry skills are fostered in our classrooms from Preschool to Year 6. Stimulating higher order thinking is an everyday occurrence at St Ives.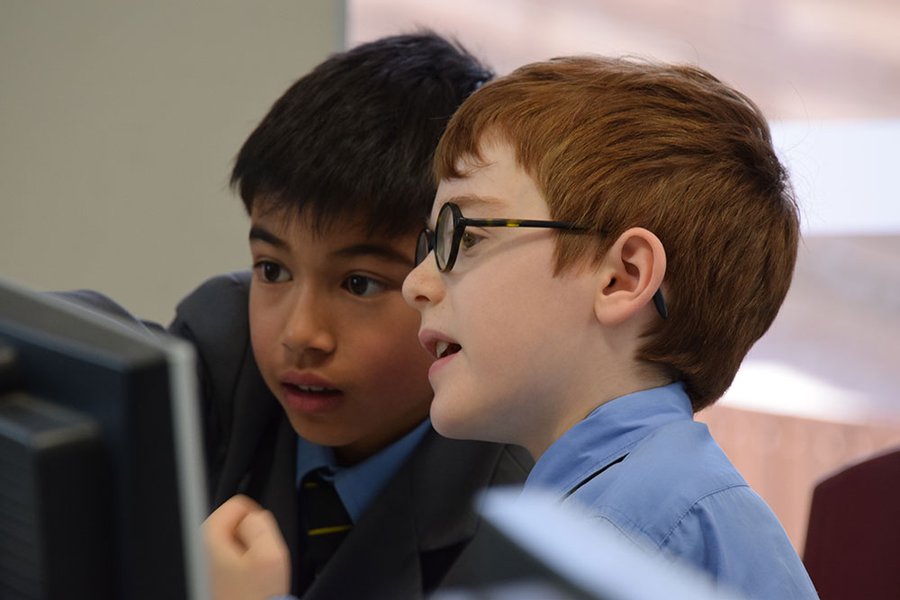 The ability to communicate both orally and in the written form is highly valued at Sydney Grammar School.
Our focus is on developing articulate, sensitive, thoughtful writers. Younger boys write every day and have many opportunities to share their imaginative ideas and creative worlds. Older boys are explicitly taught technique, structure, vocabulary and styles of writing.
As a Preparatory School, we understand how important writing skills are for success at high school. A love of poetry, ability to persuade, enjoyment of a well told yarn, and critical skills of analysis are all essential skills our boys develop as they progress through the School.
No single activity is more important in the curriculum than reading. Literature is shared at assemblies and each year boys in Years 1-6 enjoy taking part in a school-based reading challenge called 'Chase the Lion'. The K-6 Library, at the centre of the School, provides a wide variety of books, and boys can also borrow from classroom collections for home reading.
When you visit St Ives, you will find boys reading in all sorts of places!
Mathematics is a vibrant, relevant and in-depth lens through which to explore our world.
At Grammar, our boys thrive on the opportunity to develop the processes of questioning, reflecting, reasoning and establishing proof. Our focus on mathematical thinking sees boys developing a tool box of strategies with which to approach highly challenging mathematical problems.
The boys enjoy the challenge and complexity found in this subject as they build a solid foundation of mathematical knowledge, skills and understanding. They develop these through an appreciation of the beauty of Mathematics, authentic real world problems and an emphasis on the flexibility of thinking and methodologies, all through our engaging rigorous programmes.
Our boys are bright, sensitive and able individuals who display a passion for learning and a compassion and empathy for others.
Most importantly, our boys are educated with a bigger picture in mind. We focus specifically on developing these traits and nurturing the boys' potential to develop into thoughtful young men.
All boys deserve an enriched educational experience, which is exactly what Grammar offers. A specialised team of learning extension, enrichment and support teachers work with boys across the School in many different subjects.
Individual aptitudes are recognised at St Ives. Our programmes offer a fast-paced, complex and in-depth look at the core content, yet some boys operate at a higher level of abstract thought and reasoning. By catering for boys in a variety of different ways we can meet their learning needs and therefore nurture them in a supportive academic setting as they develop their potential.
Whether their interests lie in deep space, down in the ocean depths or amongst the mini-beasts in their back garden, the excitement and enjoyment children gain from conducting scientific experiments is second to none.
At Grammar, we aim to open the doors of wonder to our boys through opportunities to explore, invent and delve into the 'secrets' of Science.
We utilise inquiry, both through teacher designed guided questions and the boys' own wonderings, to delve into all aspects of Science discovery. STEM (Science, Technology, Engineering and Mathematics) and STEAM units (Science, Technology, Engineering, Arts and Mathematics), come alive in our purpose built laboratory. Our specialist teachers encourage and enable students to question, experiment and explore - we want our students to become independent researchers and thinkers. The combination of these four elements of Science, provides the apparatus for students to enjoy the learning journey and to blossom into our next generation of scientists.
In supporting the development of each individual boy as a whole person, the PDHPE programme at St Ives focuses on all aspects of wellbeing; social, mental, and physical. Child protection, fitness and physical activity, growth and development, and nutrition are covered throughout the years.
The Personal Development and Health programme (PDH) emphasises the importance of informed decision making, develops the boys' understanding of self and strongly encourages the value of others through positive relationships.
Physical Education (PE) lessons are filled with a vast range of activities to ignite the boys' enthusiasm and desire to be active. Intensive swimming lessons for P-6 provide a differentiated programme to meet boys' needs and fundamental movement skills and co-ordination are developed through engaging programmes, that include dance and gymnastics.
Boys are active at St Ives. Sport brings us together as a School community and opportunities are in abundance, so that each and every boy can develop an appreciation for movement.
Music fosters the creative spirit and individual expression so necessary in our lives.
It is for this important reason that Music has a central place in the culture of the whole School.
Class programmes teach five basic areas of elementary music – singing, moving, creating, listening and playing. Lessons on most orchestral instruments are available from specialist tutors and a number of choirs, chamber groups, ensembles and a full symphony orchestra rehearse each week. Recitals and concerts are held regularly and there are also opportunities for musical tours away from the School.
If you walk through the School, you will always hear music. It is an integral part of Grammar and its presence is always strong and vibrant.
The German language abounds in similarities to English, whilst appealing with its idiosyncratic long word lengths and unusual sentence structures.
German is the most widely spoken language in the European Union after English and its phonetic nature makes it a very quick language to pick up. Language learning in primary school encourages a respect for cultural diversity, an openness to new perspectives and experiences and an understanding of one's own heritage and place in the global community. Boys begin learning German from Kindergarten, carrying it through to Year 6 and are able to further their language studies later on at College Street.
Weekly lessons with a specialist drama teacher are enjoyed by boys from Kindergarten to Year 6.
The programme features an emphasis on developing confidence in creative expression and performance. Grade presentations give every boy the opportunity to perform and each year a major production is staged. Our recent shows have included, Charlie and the Chocolate Factory, The Pirates of Penzance and Much Ado About Nothing.
Boys are encouraged both to create and to appreciate art in our purpose built Art Space.
In lessons they encounter a wide range of artwork from different periods and cultures. The specialist Art teacher emphasises the development of technical skills and boys are taught to think, to co-operate and to solve aesthetic problems. Regular displays including our annual Year 5 portrait exhibition, provide an opportunity for the boys to share their artwork and to appreciate the work of their peers.
Art Club also offers the passionate artists an opportunity to build a body of work and explore their interests in all things artistic.